Hi, I'm Frank Konsella, and I'm the Crested Butte real estate agent above the rest. Real estate is a lot like climbing a mountain- you start with the research, then you take it one step at a time until you reach the summit. Reaching summits is what I do- both in real estate and in my spare time, as one of the few people to have skied all of Colorado's mountains over 14,000 feet.
Without experience, few people would attempt to climb a mountain without a guide. The same can be said of real estate- as your real estate agent I consider myself your guide through the process, helping you make smart and informed decisions throughout the transaction on the way to your goals.
Frank Konsella serves the areas of Crested Butte, Mount Crested Butte, Crested Butte South, Almont, and Gunnison- all unique areas with slightly different markets, an important consideration for both buyers and sellers. I specialize in all types of property including luxury homes, historic properties, townhomes, ranches, ski-in/ski-out properties, golf properties, condominiums, resort real estate, and vacant land.
---
Find or Sell Your Home in Crested Butte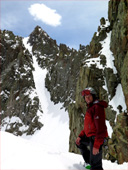 Like a good guide, I make it my priority to help my clients reach their goals in what can be a confusing and sometimes stressful process. With my college background in finance, fifteen years in the local building industry, and 20 years here in the valley, I'm truly the Crested Butte real estate agent above the rest. Contact me if you are interested in selling your property, buying property, or simply want to know more about the Crested Butte and Gunnison area. Sign up for my monthly newsletters, packed with Crested Butte real estate market analysis and information.
---
Recent Blog Posts
September was another good month in Crested Butte real estate, with 78 properties sold at a total of almost $43 million. Last year was great, too, at 77 properties, but for comparison the total value was only $27.7 million. The challenge for buyers continues to be low inventory, with many property owners choosing not to sell despite the increasing prices. It remains a great time to sell for many properties and price points. If you aren't already receiving my monthly newsletters which include my market reports and community updates, please click the button below:

The following year over year graphs compare the previous 365 days with the same period one year ago (i.e. 9/30/2016 through 9/30/2017 versus the same period from 2015 to 2016). With such a small market (sample size) these numbers can jump around, so it's worth comparing these graphs over a period of time. My Gunnison and Crested Butte real estate market report archives can be found on this page. If you are looking for other statistics, such as inventory, or a more specific neighborhood analysis, please contact me.
Crested Butte South: Expect the average sales price in CB South to be significantly up by the end of the year, with a number of homes currently under contract.
Mount Crested Butte (All Residential): Mount Crested Butte continues to be an active area in our local real estate market and prices here are increasing. Due to a decrease in supply, the number of properties under contract is actually down from last month. For condos only, see below:
Mount Crested Butte (Condos/Townhomes): Condos in Mount Crested Butte continue to move quickly, despite rising prices and falling inventory. If you see something you like, be prepared to make an offer sooner rather than later. For sellers, the market is better than it's been in years. This has been the advice for this market segment for months… READ MORE!
Summary
Article Name
October 2017 Crested Butte Market Report
Description
October 2017 Crested Butte home sales information: Graphs, statistics, sold data, and analysis of the Crested Butte and Gunnison markets. Compare year over year statistics for all the major neighborhoods in the area.
Author
Crested Butte Real Estate Agent
Here is a recent recommendation for my Crested Butte real estate services from a buyer:
Frank was an exceptional BUYER's agent for us to buy a house in Crested Butte, Colorado. We found him to be extremely responsive, knowledgeable about the local and general market, patient, honest, and generally a joy to work with and be around.
HIGHLY RECOMMEND
As one of Crested Butte and Gunnison's most highly recommended real estate agents, my goal is to consistently receive recommendations just like this one. If you, or anyone you know, is in need of a great real estate agent, please contact me today.

---
Newest Crested Butte Homes For Sale
Summary
Article Name
Crested Butte Real Estate Agent | Frank Konsella
Description
Your informational source for Crested Butte real estate. Property search, home valuation, market reports and a 20 year local to guide you through the process.
Author