Hi, I'm Frank Konsella, and I'm the Crested Butte real estate agent above the rest. Real estate is a lot like climbing a mountain- you start with the research, then you take it one step at a time until you reach the summit. Reaching summits is what I do- both in real estate and in my spare time, as one of the few people to have skied all of Colorado's mountains over 14,000 feet.
Without experience, few people would attempt to climb a mountain without a guide. The same can be said of real estate- as your real estate agent I consider myself your guide through the process, helping you make smart and informed decisions throughout the transaction on the way to your goals.
Frank Konsella serves the areas of Crested Butte, Mount Crested Butte, Crested Butte South, Almont, and Gunnison- all unique areas with slightly different markets, an important consideration for both buyers and sellers. I specialize in all types of property including luxury homes, historic properties, townhomes, ranches, ski-in/ski-out properties, golf properties, condominiums, resort real estate, and vacant land.
---
Find or Sell Your Home in Crested Butte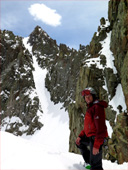 Like a good guide, I make it my priority to help my clients reach their goals in what can be a confusing and sometimes stressful process. With my college background in finance, fifteen years in the local building industry, and 20 years here in the valley, I'm truly the Crested Butte real estate agent above the rest. Contact me if you are interested in selling your property, buying property, or simply want to know more about the Crested Butte and Gunnison area. Sign up for my monthly newsletters, packed with Crested Butte real estate market analysis and information.
---
Recent Blog Posts
Be aware that Kebler Pass road will be closed at times during the fall of 2016, from September 7th to October 14th. Late November is the most common time for Kebler Pass to close for the winter season. For the complete schedule, see the press release below. The area of the closure is just west of Crested Butte, at the wintertime trailhead (
Trapper's Crossing at Wildcat
) to Splains Gulch, a few miles to the West. From what I can tell, the construction will address the short one lane sections of road that have had temporary fixes over the past couple of years. This closure will affect residents of the
Irwin townsite
, so plan accordingly.
Kebler Pass is one of the most popular drives in Colorado during the peak of fall colors. "Leaf peepers" will want to either time their drive accordingly, or take the longer but equally scenic Ohio Pass road from Gunnison. For us locals, that also means that we will need to time our drives to the Western slope, whether we're heading to wine country or riding the trails of Paonia, Grand Junction, or Fruita. Here is the following release, with Kebler Pass road closure times and contact information.
Kebler Pass Road Closure Information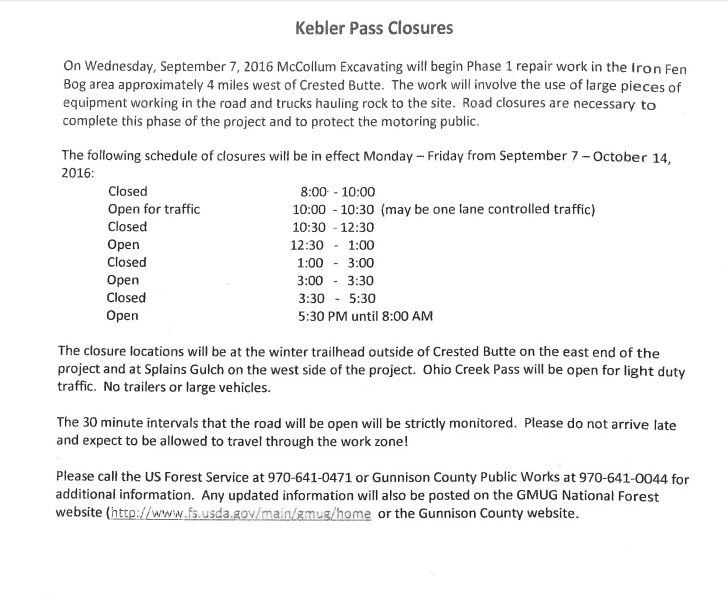 Summary
Description
Be aware of the Kebler Pass road closure from Setember 7, 2016 to October 14, 2016. Road opening schedule and closure location found below:
Author
Crested Butte Real Estate Agent
Under contract via seller representation is Paradise Condos #101A. Located at 20 Hunter Hill road in Mount Crested Butte, this updated condo is within walking distance of Crested Butte Mountain Resort. This is a special condo, being an end unit with lower dues and a garage for under $350,000. Unsurprisingly, it went under contract in under 60 days, far under the Crested Butte condo average of 259 days on market over the past year. See the
full listing here
.
Contact me today if you're interested in selling your Crested Butte condo, home, or land.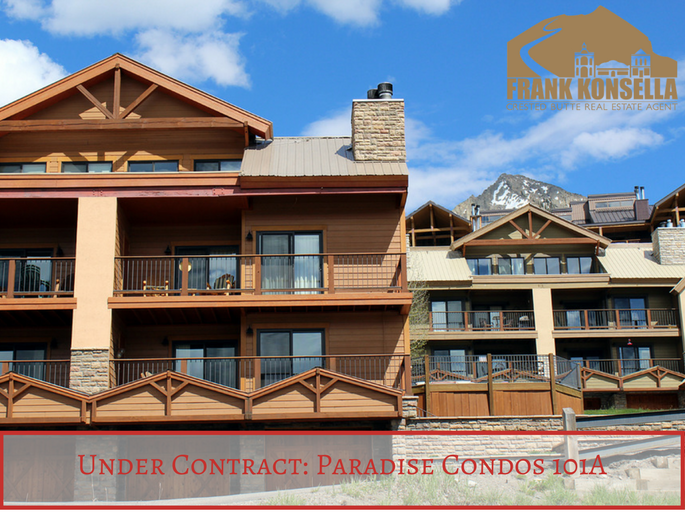 ---
Newest Crested Butte Homes For Sale
Summary
Article Name
Crested Butte Real Estate Agent | Frank Konsella
Description
Your informational source for Crested Butte real estate. Property search, home valuation, market reports and a 20 year local to guide you through the process.
Author