November 14, 2014
Crested Butte Neighborhood Spotlight: Crested Butte South
Crested Butte South is located 7 miles south of Crested Butte and 21 miles north of Gunnison. Nearly half of Crested Butte South's 765 lots have been developed, making CB South (as most people refer to it as) one of Gunnison County's largest communities.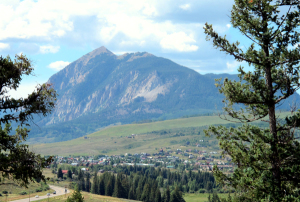 Many local families make CB South home, giving it a strong sense of community. The CB South Property Owner's Association performs many of the functions which a municipality would normally cover, such as road maintenance and recreational facilities. Those recreational opportunities include a baseball field and tennis courts, plus a lighted ice rink and nordic skiing in the wintertime. CB South is located near the confluence of Cement Creek and the East river, and the Cement Creek valley is one of the best places to enjoy the outdoors in the Crested Butte area. Cement Creek fishing access is available for CB South residents. Some of Crested Butte's best biking and hiking is located up this valley, while snowmobilers and skiers enjoy the same area in the winter.
CB South also has a number of businesses, so residents don't need to travel far- those businesses include Tully's restaurant (which has become a hub for local residents), the CB South General Store and gas station, Red Mountain liquor store, Camp 4 coffee and the Little Red Schoolhouse. Lot sizes in CB South are commonly a third of an acre, although larger lots are available. Most lots in CB South have tremendous views of Whetstone Mountain, while the best lots may also have views of Mount Emmons and Paradise Divide. The highest lots are often situated in an aspen forest. To learn more about buying or selling a home in Crested Butte South, feel free to contact me anytime.
Crested Butte South Real Estate For Sale:
Crested Butte South Land For Sale: